The audit work of the National Audit Office is centred around four subject areas. Some of the audit themes or perspectives extend to several subject areas.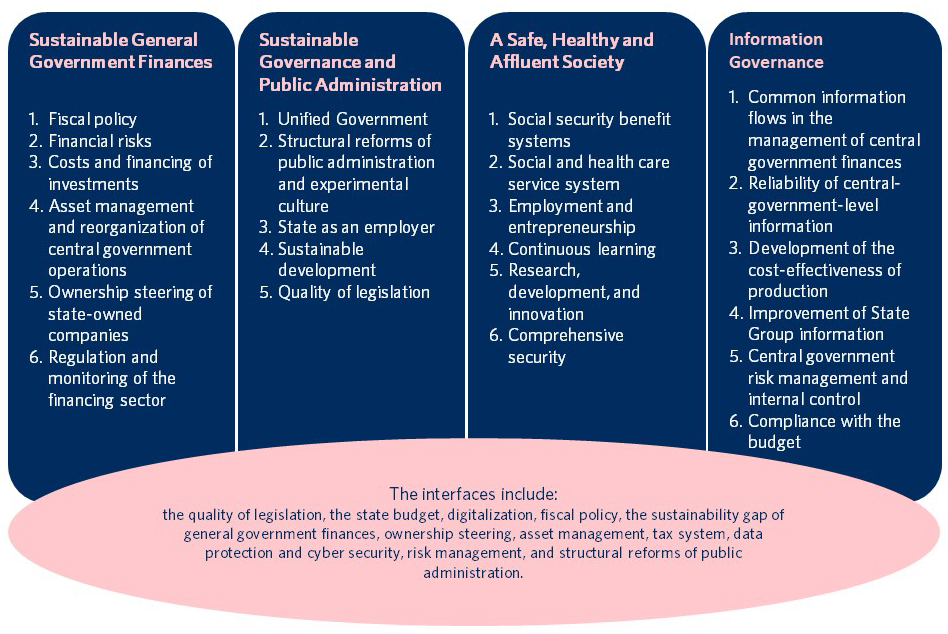 By monitoring the operating environment, we identify risks that are significant for general and central government finances as well as potential audit topics, and draw up reviews, expert opinions, and other statements to support Parliament and the central government in decision-making.
Audit topics of permanent nature
Core team (financial audit)

Balance sheet team (financial audit)

Security team (financial audit)

Government grant team (financial audit)

Final central government accounts (financial audit)

Shared processes audit (financial audit)

International financial audit: ESO

International financial audit: CERN

International financial audit: HELCOM

Centralized audit of compliance with the budget

Audit of the Government's annual report

Audit of EU funds.
Audit topics previously incorporated into the audit plan
Measures for promoting the growth and competitiveness of regional trade and industry

Activities of the Housing Finance and Development Centre of Finland (ARA) in the implementation of housing policy development measures

Statistics on general government finances (in audit plan 2020: Statistical knowledge base of fiscal policy)

Finnfund's investment activities and risk management

Reform and funding of continuous learning

Multiple steering and reorganizations (in audit plan 2021: Multiple steered central government organizations)

Taxation procedure for self-assessed taxes

Mergers and reorganizations

Grants awarded from the proceeds of gambling activities – Appropriateness of management and prerequisites for effectiveness (in audit plan 2021: Settlement of gambling proceeds and government grants allocated from them)

Recruitments and competence development in implementing central government's personnel policy targets

Monitoring of the operating environment and foresight activities to support strategic decision-making

Management of the utilization of research data in health sector business (in audit plan 2020: Utilization of research data in business: funding and incentives)

Incentives and obstacles to work-based immigration

The state pension scheme and central government liabilities in other pension schemes

Centralization of central government functions: Economic efficiency, quality and steering of Palkeet's service portfolio

Effectiveness of the reforms of student financial aid in the 2010s (in audit plan 2021: Impacts of the reform of student financial aid in 2016)

General housing allowance

Effectiveness of the entrepreneurship service system.
New audit topics
Battery value chain, the national battery strategy, and the Finnish Minerals Group

Automatic fiscal stabilizers

Municipalities in a particularly difficult financial position (procedure for municipalities in crisis)

Certain measures promoting employment

Special purpose entities in the planning and implementation of rail investments

Subsidies for productive investments in agriculture

Rescue services reform and capacity project

Digitalization projects related to health and social services

Situation with and further development of Suomi.fi services

Central government related party transactions and reporting

Long-term operating models in central government's service procurement

Old information systems

Organization and effectiveness of water resources and marine environment management

Targeting of government agencies' activities at their statutory duties

Private forestry subsidies and forest biodiversity.